Winter Reading Event
Stay warm this winter and participate in the Crown Point Community Library's "Snow Many Great Books" Winter Reading Event. The program will be online. No in-library programs will take place, but the library will offer curbside activity bags, virtual online programs, and other socially distant activities.
Here is how it works:
ADULTS
• Sign up online or in-person at the Crown Point or Winfield Branch Library
• Submit a reading log online, or pick up a printed log, and record the books of your choice you read this winter during the months of January and February
• Participants will be entered into the weekly drawing for every reading log submitted.
• At the Crown Point Library, enter your completed logs in the New Release Book Display area, and at the Winfield Branch at the Circulation Desk.
• Drawings will occur on each Monday from January 11 – February 21.
---
CHILDREN & TEENS:
• Sign up online or in the Children's Library or Winfield Branch Circulation Desk.
• Print a BINGO card online or pick one up at the library. Try to finish a row down, across, or
diagonally for a BINGO. Check-in once a week in person or online to enter a ticket in the
weekly prize drawing.
• Anyone that participates can enter the grand prize drawing!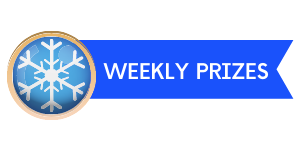 ---
---
Enjoy our story walk on the square throughout the Winter Reading Event!