Digital Library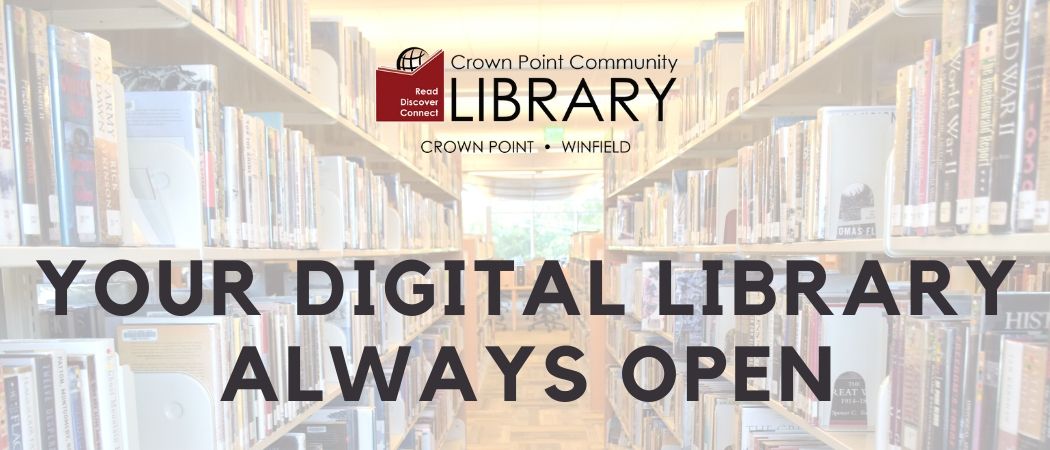 ---
---
ACCESS THE DIGITAL LIBRARY
Some of the library's online resources require your library card number and pin/password.
If you need a library card, update your expired card or need assistance with your pin number email us at questions@crownpointlibrary.org or call us at (219) 663-0270, choose prompt #4, wait a moment and leave your name, phone number and your question. A library staff member will return your call.
Digital Library Resources:
The Digital Library provides all-ages access to eBooks, audiobooks, eLearning, research and databases.
The following new service extensions have been added to our digital resources:
---
---
OUTDOOR WiFi ACCESS
The Library is offering free WiFi access in the parking lot at both locations.  Connect to "CPCL Outdoor" no password is required.
---
---
SOCIAL MEDIA
Follow our Social Media accounts for updates, virtual storytime, steam activities, author readings, video clips, and more!
---
---
SERVICE CHANGES
The following service changes are effective until further notice:
---
---
Crown Point Community Library will continue to monitor COVID-19 developments with the help of the Indiana Department of Health, the City of Crown Point, and its partner agencies. Decisions to reopen the library system will be based on the COVID-19 situation. The Library will seek to balance the safety and health of our community with its commitment to serving our citizens.
Indiana State Department of Health (ISDH) is making updates to its website as new information becomes available. You can sign up to receive updates by email.
If you experience symptoms such as fever, cough, and shortness of breathe and have a recent history of travel to China or contact with someone suspected of having COVID-19 please contact the ISDH Epidemiology Resource Center at 317-233-7125, 317-233-1325 after hours or email epiresource@isdh.in.gov