eBooks & AudioBooks
Click the image for a complete list of titles!
Click on the image below to access the
library's digital materials catalog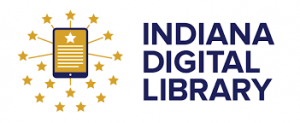 Indiana Digital Library (IDL)
In March 2022, the Crown Point Community Library joined a new electronic resource-sharing group called the Indiana Digital Library(IDL), a consortium of almost 200 Indiana libraries to provide improved OverDrive and Libby access. As part of the IDL, patrons will have access to a much larger selection of titles in eBook and eAudio formats. As a result of the additional access to multiple copies, wait time on holds should diminish significantly. In addition, the IDL will provide library patrons with digital magazines for the first time. Enjoy thousands of eBooks, eAudiobooks, and magazines on your computer or personal device. 
Accessing Indiana Digital Library Consortium on Libby App
Tap the middle button (3 lines) located at the bottom of your screen. There is a building icon to the left and a book icon to the right.

You will see 'Your Libraries' in the middle. Click 'Add Library' It will be below your Crown Point Community Library card if you are logged into that account.

Type in 'Indiana Digital Library'

Click on 'Indiana Digital Library-315 W. Ohio Street, Indianapolis, Indiana USA and 192 other branches'

It will ask you to add a library card for 'Indiana Digital Library.' Click 'Sign in With My Card'

Locate Crown Point Community Library on list of participating libraries.  You will need to scroll down.

Enter your CPCL library Card # and PIN #.  If you need to update your library card or reset your pin number please call the library at 663-0270.

Hit 'Next' and wait a moment to load. It will state: 'wait a moment while we contact your library's systems.'

Next it will state, 'You're signed in, here's your library card'. The IDL card is yellow and blue, not red like the CPCL card. 

Click 'Next' to take you to the IDL home screen.

Clicking back to that middle button on bottom (3 lines) will enable you to see both libraries, if you are logged in on both CPCL and IDL. Eventually, the access to the CPCL collection will be eliminated as our collection has migrated to the new IDL collection. 
Libby App
Read and listen to popular eBooks, magazines, and audiobooks anytime with Libby, the one-tap reading app! Libby is the recommended way to access the library's eMaterials. 
 Download the Libby app in the Apple App Store or on Google Play.
In Libby, follow the prompts to find your library and sign in with a valid library card.

Get a library card

if you don't have one.

Browse for titles in Libby or the

Library catalog.

Borrowed titles appear under 'Shelf' > 'Loans' and download to the app automatically when you're connected to Wi-Fi, so you can read them when you're offline.

From your 'Loans', you can:

Tap 'Read With…' to choose where you'd like to read the book (Kindle or Libby), then finish sending to Kindle (U.S. libraries only) or start reading in Libby.

Tap 'Open Audiobook' or 'Open Magazine' to start reading or listening to that title.

Tap 'Manage Loan' to see options like 'Renew' and 'Return.'

 For more information on the Libby app visit:

https://www.overdrive.com/apps/libby
OverDrive
Access to OverDrive App is limited, and you must already have downloaded the app to your device to use it. If you delete the app you will not be able to re-install it. You can still use the app if you have it, but you should plan to migrate to the Libby app as OverDrive will stop supporting it in the near future. 
Need More Help?
If you continue to have difficulty in accessing Libby, try deleting the app on your personal device and downloading it again. Once you do download the app again, you will sign in using your library card and pin # to authenticate your access.
If you continue to have access issues, please call the Reference Desk at 306-4593 for additional assistance.  
Call 306-4591 for questions on your library card status and to update your pin #. 

---
Additional Resources for Digital Books:
BookBub – Free and low-cost eBooks
E Reader IQ – Free and bargain Kindle books
Ebscohost Ebooks -eBook database provided by IN State Library
Project Gutenberg – Free digital library
Online Books Page – Database of free eBooks
Many Books – Source for free eBooks for many device types
Google Ebookstore – Google Play Store books
Internet Archive – Access to public domain and contemporary eBooks