Library Friends
Upcoming Bus Trips:
November 7- Antioch Dickens Holiday Village, Antioch, IL
Tickets on sale October 1
December 5 – Christmas Shopping in downtown Chicago
Tickets on sale November 1
Are you an online shopper?
Support the Friends this holiday shopping season! Go to smile.amazon.com and support Friends Of The Crown Point Community Library Inc.
To do this now:
Enter "smile.amazon.com" in your browser address bar
Shop & place your order
The Friends thank you for your support!
---
Meet The Friends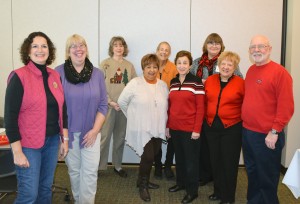 The Friends of the Crown Point Community Library have supported special programs and help to purchase items not generally covered in the library's regular operating budget. They have made it their mission to enhance and promote the use and enjoyment of the library.
When you join us, you'll:
Sponsor programs and literary initiatives for adults, children, and teens
Enable lively cultural events that attract non-traditional library users
Volunteer at Library events and book sales
Support pro-library advocacy to government officials and the general public
Many Friends volunteer by helping with the monthly and annual book sales, fundraising, and promoting the library. In addition to membership dues, money raised from the Literary Luncheon and book sales support on-going adult, children, and teen events, provide prizes for summer reading programs and help purchase equipment not covered in the general budget.
As a member of the Friends of the Crown Point Library, you'll be paid back in a thousand ways every year – with children's smiles, the sincere appreciation of the library's hardworking staff and the pure satisfaction of knowing you make a difference in your community!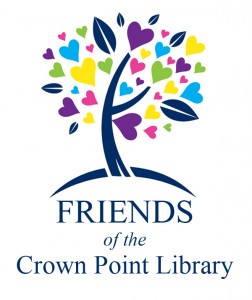 How to join:
To join the Friends of the Crown Point Library, download and fill out the membership Form and return it to:
Friends of the Crown Point Library
122 N. Main Street
Crown Point, IN 46307
The membership form is also available in the library's monthly newsletter "Check It Out" or forms are also available at the Circulation desk.
Membership is open to all individuals and families who want involvement in the library. Members are encouraged to attend monthly meetings and to actively participate in the book sales, and other events and projects. The membership year begins on January 1 and ends on December 31. All dues are paid annually.
The 2018 membership dues are as follows:
Life – $150;
Family – $15;
Individual – $10
Curious to see what the Friends are doing?
Attend a meeting! Monthly meetings are held on the second Tuesday at 10:00 am. in Meeting Room 2.
For more information on how you can get involved, contact Laura Clemons at 306-4599 or email cpclfriends@gmail.com
2018 Friends of the Library Officers:
President, Donna Hill
Vice President, Donna Selvagi
Treasurer, Cindy Beckman
Secretary, Carol Bangsburg
Program Committee:
Carol Fisher
Vicky Klein
Cindy Beckman
Donna Hill
Rose Kendall
Carol Bangsberg
Book Sale Coordinators:
Lois Lovekamp
Vicky Klein