Library Friends
Click on the image to view a list of items accepted.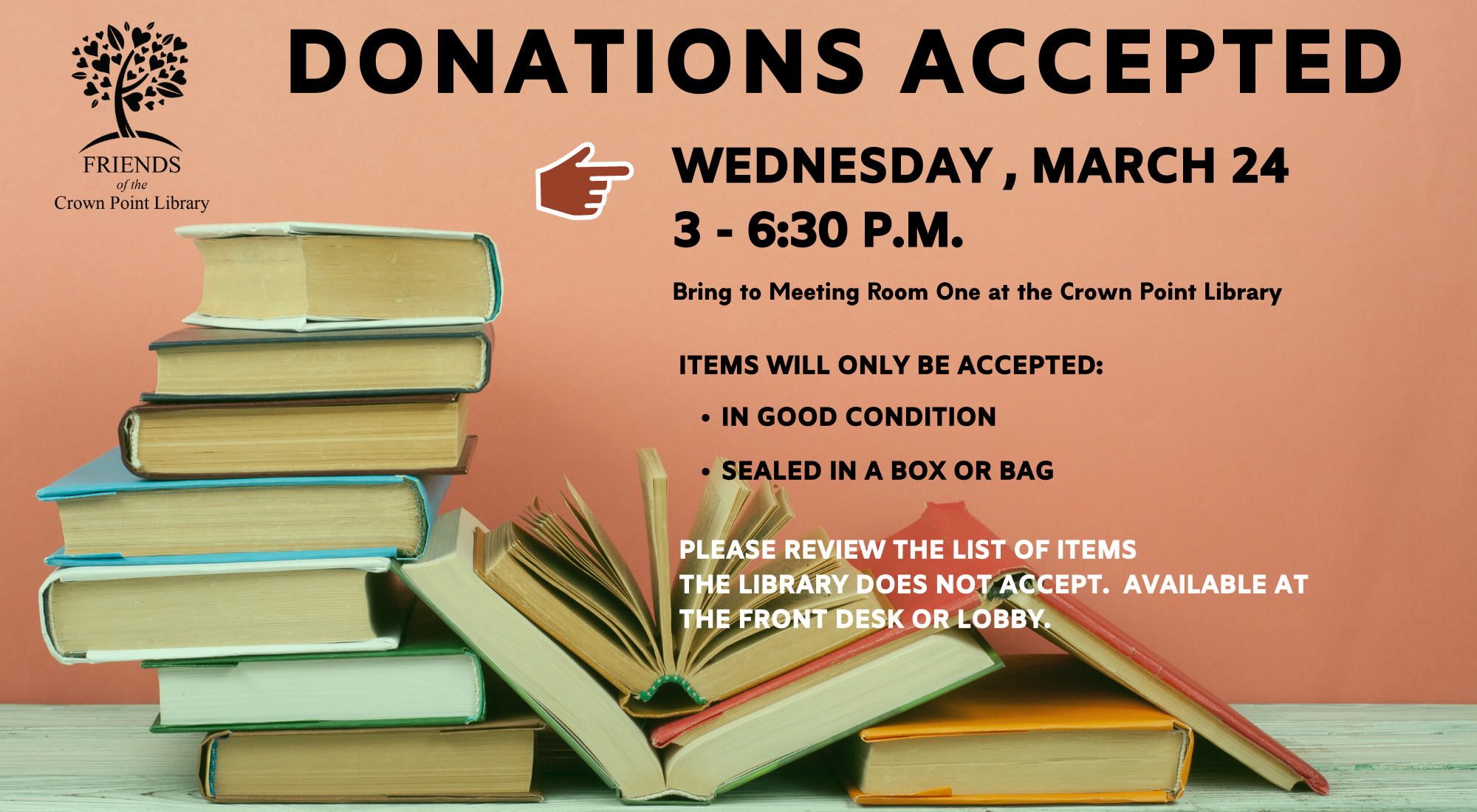 ---

We miss our member meetings and look forward to when we can all be together again. The Board members are meeting monthly to stay on track with the needs of the Library.
Although our fundraising events have been limited, the book sales and seasonal basket raffles have helped to bring in some income. We wish to thank you for your continued and invaluable support to our organization throughout this year. As a special benefit for our members, we have extended your 2020 membership through 2021.
Please consider a year-end donation to the Friends to help them continue their mission of supporting the library and its community outreach services. To make an online donation visit, or print this form and mail it to Crown point Library, Attn: Friends, 122 N. Main Street, Crown Point, In. Forms are also available at both library locations.
Other ways you can support the Friends:
Purchase a ticket to win one of their raffle baskets. Visit this webpage or our Facebook page for details about upcoming raffles.
Volunteer to help at the next book donation or book sale. Information and dates for 2021 will be available shortly – check back here on this webpage or our Facebook for up-to-date information.
When you shop online with Amazon, your purchases can make a difference!  AmazonSmile donates to Friends of the Crown Point Community Library Inc when you do your holiday shopping at smile.amazon.com/ch/35-1511609.
Print form to mail in a donation
---
How the CARES Act Impacts Charitable Giving for 2020
The federal coronavirus stimulus included changes to charitable giving and the new universal deduction, for 2020, provides incentives for both individuals and corporations by increasing the available deductions on qualified charitable contributions.
New Deduction Available: Up to $300 per taxpayer ($600 for a married couple) in annual charitable contributions. This is available only to people who take the standard deduction (for taxpayers who do not itemize their deductions). It is an "above the line" adjustment to income that will reduce a donor's adjusted gross income (AGI), and thereby reduce taxable income. A donation to a donor-advised fund (DAF) does not qualify for this new deduction.
New Charitable Deduction Limits: As part of the bill, individuals and corporations that itemize can deduct much greater amounts of their contributions. Individuals can elect to deduct donations up to 100% of their 2020 AGI (up from 60% previously). Corporations may deduct up to 25% of taxable income, up from the previous limit of 10%.
For more information visit https://www.irs.gov/newsroom/how-the-cares-act-changes-deducting-charitable-contributions.
This information is not intended as legal or tax advice. Please consult an attorney or tax advisor for advice 

on your individual situation, including both federal and state tax laws.
---
---
---
Accepting book donations
The Friends will be accepting donations on the following days, in meeting room one at the Crown Point location:
Wednesday, December 16 from 3 – 5:30 p.m.
Items will only be accepted at the Crown Point Library during the times stated. Please review the list of items the Library does not accept. The public is asked to drop off their donations in a sealed bag or box. If you have a large number of books to be donated (more than 10 bags or boxes), please call Laura at (219) 306-4599.
---
Meet The Friends
Mission:
To 
enhance and promote the use and enjoyment of the library. 
To raise funds to support library programs, services and to help fund items not generally covered in the library's regular operating budget.
The Friends of the Crown Point Community Library have supported special programs and help to purchase items not generally covered in the library's regular operating budget. They have made it their mission to enhance and promote the use and enjoyment of the library.
When you join us, you'll:
Sponsor programs and literacy initiatives for adults, children, and teens
Enable lively cultural events that attract non-traditional library users
Volunteer at Library events and book sales
Support pro-library advocacy to government officials and the general public
Many Friends volunteer by helping with the monthly and annual book sales, fundraising, and promoting the library. In addition to membership dues, money raised from the Literary Luncheon and book sales support on-going adult, children, and teen events, provide prizes for summer reading programs and help purchase equipment not covered in the general budget.
As a member of the Friends of the Crown Point Library, you'll be paid back in a thousand ways every year – with children's smiles, the sincere appreciation of the library's hardworking staff and the pure satisfaction of knowing you make a difference in your community!
---
Become A Friend!
To join the Friends of the Crown Point Library, download and fill out the membership Form and return it to:
Friends of the Crown Point Library
122 N. Main Street
Crown Point, IN 46307
Membership forms are also available at both library locations.
Membership is open to all individuals and families who want involvement in the library. Members are encouraged to attend monthly meetings and to actively participate in the book sales, and other events and projects. The membership year begins on January 1 and ends on December 31. All dues are paid annually.
The membership dues are as follows:
Life – $150;
Family – $15;
Individual – $10
Curious to see what the Friends are doing?
Attend a meeting! Monthly meetings are held on the second Tuesday at 10:00 am. in Meeting Room 2.
For more information on how you can get involved, contact Laura Clemons at 306-4599 or email cpclfriends@gmail.com
---
2020 Friends of the Library Officers:
President, Donna Hill
Vice President, Carol Fisher
Treasurer, Cindy Beckman
Secretary, Joan Brasa
---