Teens
Teens needed to volunteer at the library this fall
Teens interested in volunteering for the 2019-2020 school year can pick up an application at both locations or download here.
Teens must be going into the 7th grade or above and commit to working one day per week, for one hour, during the school year. Typical tasks include: photocopying, cleaning books, assisting with craft preparation and more.
To be considered, please return your application at either library by September 15. For more information about our Teen Volunteer Program at the Crown Point location please contact Kristal Rada at 306-8068, or Brenda Thompson at 662-4039 at the Winfield location.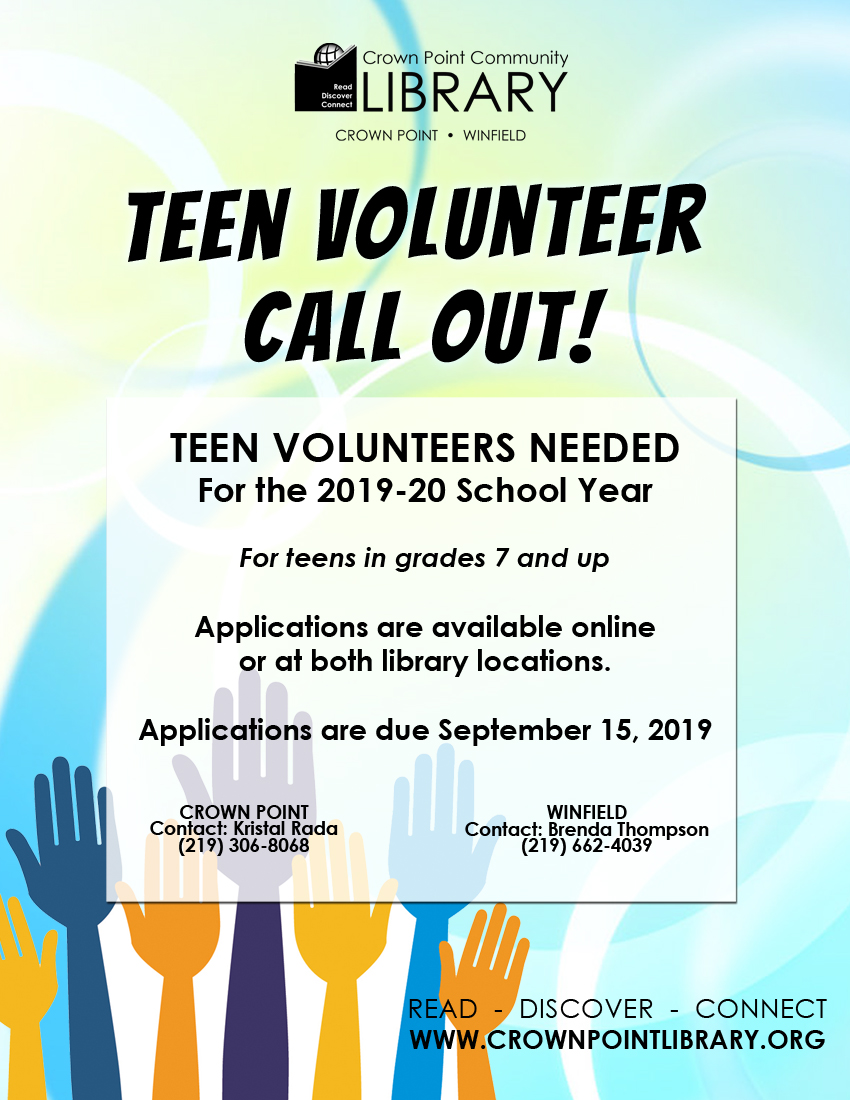 ---
Teen Advisory Group
The Crown Point Community Library Teen Advisory Group is a group of students in grades 7-12 who are interested in making a difference in their library. TAG members will play an integral role in in developing the YA collection, YA programs (planning and implementation), and making the library a friendly space for teens. If you are interested in joining the Teen Advisory Group, fill out the application below and return it to the Crown Point Community Library
TAG Application                     TAG Information and Requirements
---
Check out the 2019 nominees for YALSA's Teens' Top Ten!
Teens' Top Ten is a "teen choice" list, where teens nominate and choose their favorite books of the previous year! Voting is open from August 15 through October 15, 2019. The Top Ten titles will be announced on October 16, 2019, so check back to see the winners!
Teens ages twelve to eighteen can vote for up to three books by visiting https://www.dogobooks.com/voting/2019-teens-top-reads. This voting is for teens only!
---
Information & Research