Indiana in the Movies
When one thinks of Hollywood and the movies, one doesn't automatically think of Indiana.  However, Indiana has contributed to all aspects of the film industry.  The Hoosier State has provided writers, directors, actors, and those who work behind the scenes and are often not publicly recognized.  Indiana novelists have written stories, poems, and books that gave Hollywood some of its most loved films.  Movies have been set in Indiana, but not filmed within its borders.  Numerous movies have used the farmlands and towns for their scenery and filmed in the Hoosier State.  Some of your favorite movies and movie stars may involve Indiana and you just didn't know it.
The settings for Indiana films are as diverse as the state itself.  Hoosiers (1986) represents the state's love of basketball, but also its defining resilience of character.  Family stories, many that started as novels by Indiana authors, illustrate what it means to have the grit, compassion, and determination that show who Hoosiers are to the rest of the country and world.  Examples include The Magnificent Ambersons by Booth Tarkington, Theodore Dreiser's Sister Carrie and An American Tragedy, and more recently John Green's A Fault in Our Stars and Paper Towns.  Lew Wallace wrote the epic Ben Hur which is now regarded as one of our finest films of all time.  Northwest Indiana's George Ade (The College Widow, 1927) had over 90 of his short stories adapted for film and the stage.  George Barr McCutcheon wrote several adapted stories, including Home in Indiana (1944).  Historical movies show some of the best and worst Indiana has to offer.  Although it may not be the finest moment in Indiana or Crown Point's past, Public Enemies (2009) was filmed within our borders and our town.
There are several movie stars, and others in the industry, that call Indiana home, either by birthplace or adopted home.  One of the most famous Hoosier movie stars is James Dean, perhaps famous just as much for his death as for his acting.  Steve McQueen, Marjorie Main (Ma Kettle), Carole Lombard, Greg Kinnear, and Kevin Kline are among those who Indiana can claim.  Colleen Moore, who married her second husband at Crown Point's Marriage Mill, starred in James Whitcomb Riley's adaptations of poems A Hoosier Romance (1918) and Little Orphant Annie (1918).  Gary's own Karl Malden served as president of the Academy from 1988-1993.  Two other Hoosiers, George Seaton and Robert Wise, have served in the role since the formation of the institution.  The Academy Awards ceremonies of 1944, 1954, and 1946, were held at Sid Grauman's Chinese Theatre.  Sid Grauman was a native of Indianapolis.  He was recognized for his contributions to film in 1949, one year before he died.
Hoosier sites and Hoosier hospitality lend itself to the movies.  People like feel good, all-American stories when they go to the movies.  What's more American than "The Crossroads of America" – Indiana?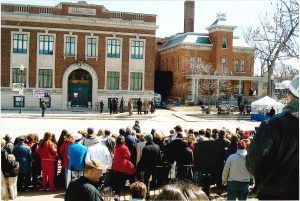 Filming Public Enemies, Crown Point, IN, March 2008