2016 is the Indiana Bicentennial – Brush up on your Hoosier State History and Trivia before the year of celebrations.
Statehood Day – December 11, 1816, when Indiana became the 19th state of the Union
State Flag – Designed as part of a contest during the centennial celebration, the flag's stars represent the states within the Union, with the 19th (Indiana) above the torch of liberty.
State Motto – The Crossroads of America adopted in 1973
State Nickname – The Hoosier State
State Seal – Depicts a scene reminiscence of Indiana at the time of statehood
State Bird – Cardinal
State Flower – Peony
State Stone– Salem Limestone
State Tree – Tulip Tree
State Poem – Indiana by Arthur Franklin Mapes
State Song – On the Banks of the Wabash, Far Away by Paul Dresser
What is a Hoosier?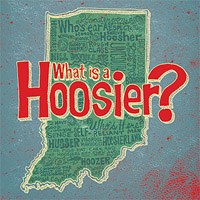 Although the exact origin of the nickname Hoosier is unknown, there are several theories floating around.  Most date from the 1830s, whether it is reference to John Finley's poem The Hoosier's Nest, the Greencastle newspaper founded by former governor James B. Ray, or the name of G.L. Murdock's boat the Indiana Hoosier.  There are many origin theories that have been disputed, but one thing can be agreed upon- Hoosiers own the nickname with pride.
Books Available at Crown Point Community Library
All titles below are available for viewing in the Indiana Room and are not available for check out.  There are numerous books on the history and facts of Indiana, as well as other aspects about the Hoosier State, in the Adult Nonfiction and Juvenile Nonfiction sections of the library available for checkout; please browse our catalog for titles.
Indiana Memories: Collected Works of Arthur Franklin Mapes by Arthur Franklin Mapes
Hoosier's Nest and Other Poems by John Finley
Who's Your Hoosier Ancestor?: Genealogy for Beginners by Mona Robinson
Who's Your County Named for? And Other Hoosier County Facts by Glenda S. Shull
Destination Indiana: Travels through Hoosier History by Ray Boomhower
Hoosiers: A New History of Indiana by James H. Madison
Forgotten Hoosiers: Profiles from Indiana's Hidden History by Fred D. Cavinder