Who's Ready for Library Mini Golf!?!
Our largest fundraising event, Library Mini Golf, is returning on Saturday, April 22, from 10 a.m. – 3 p.m., and we are excited to once again transform the library into an 18-hole miniature golf course for the day. Players, of all ages, will enjoy putting through the library stacks, down the staircase, and finishing at the 19th hole "Family Fun Zone," located in the meeting rooms, to enjoy free refreshments, and fun activities. Tickets cost $5 per person or $20 for a group of five and include one round of golf (putters, balls, and scorecards will be provided) and admittance to the Family Fun Zone.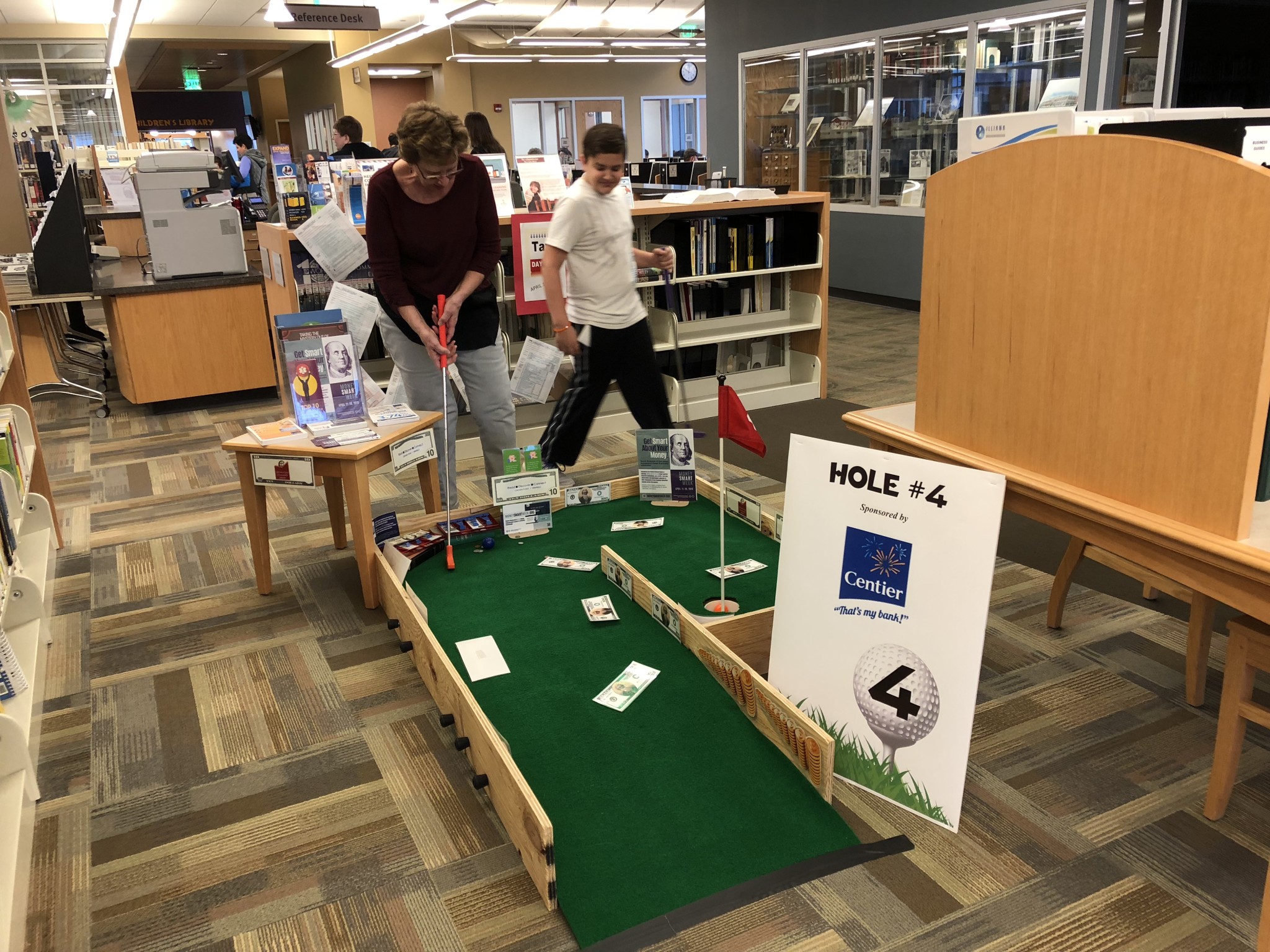 Library Mini Golf is one of the most exciting opportunities that embrace the dual purpose of fundraising and provides an engaging way for community members to enjoy and explore the library space. and brings awareness of how the Library plays an integral part in our community's success and quality of life for its residents.
The event is strategically scheduled in April to coincide with two American Library Association's sponsored celebrations – National Library Week (April 23-29) and School Library Month. During the event, Crown Point schools compete in a hole-decorating contest. Golfers vote for the best hole and three winning schools receive a cash prize for their library.
The proceeds from this event are utilized to fund two years of library programming, for all ages. Since our first event in 2013, financial support through this fundraising effort has allowed us to enhance outreach services and expand traditional library programming to include:
Renting Molly the Trolley to transport patrons on our Historical Homes Tour,
Purchasing the screening licenses for Motion Pictures and Foreign Films,
Purchasing program materials for STEAM and early literacy programs,
Incentives and performers for the summer and winter reading events,
Author visits and musical performances,
Purchasing materials for take & make kits during the pandemic, and more!
One of the best features of the event is the golf hole-decorating contest between schools! Golfers vote for their favorite hole and three winnings schools receive a cash prize to purchase books for their school library (sponsored by our Friends of the Library.) 1st place receives $300, 2nd place receives $200 and 3rd place receives $100. This year, the Friends added an additional bonus of $100 to each school participating: Solon Robinson, Robert A. Taft, Dwight Eisenhower, Timothy Ball, Colonel Wheeler, MacArthur Elementary, and St. Mary's Catholic.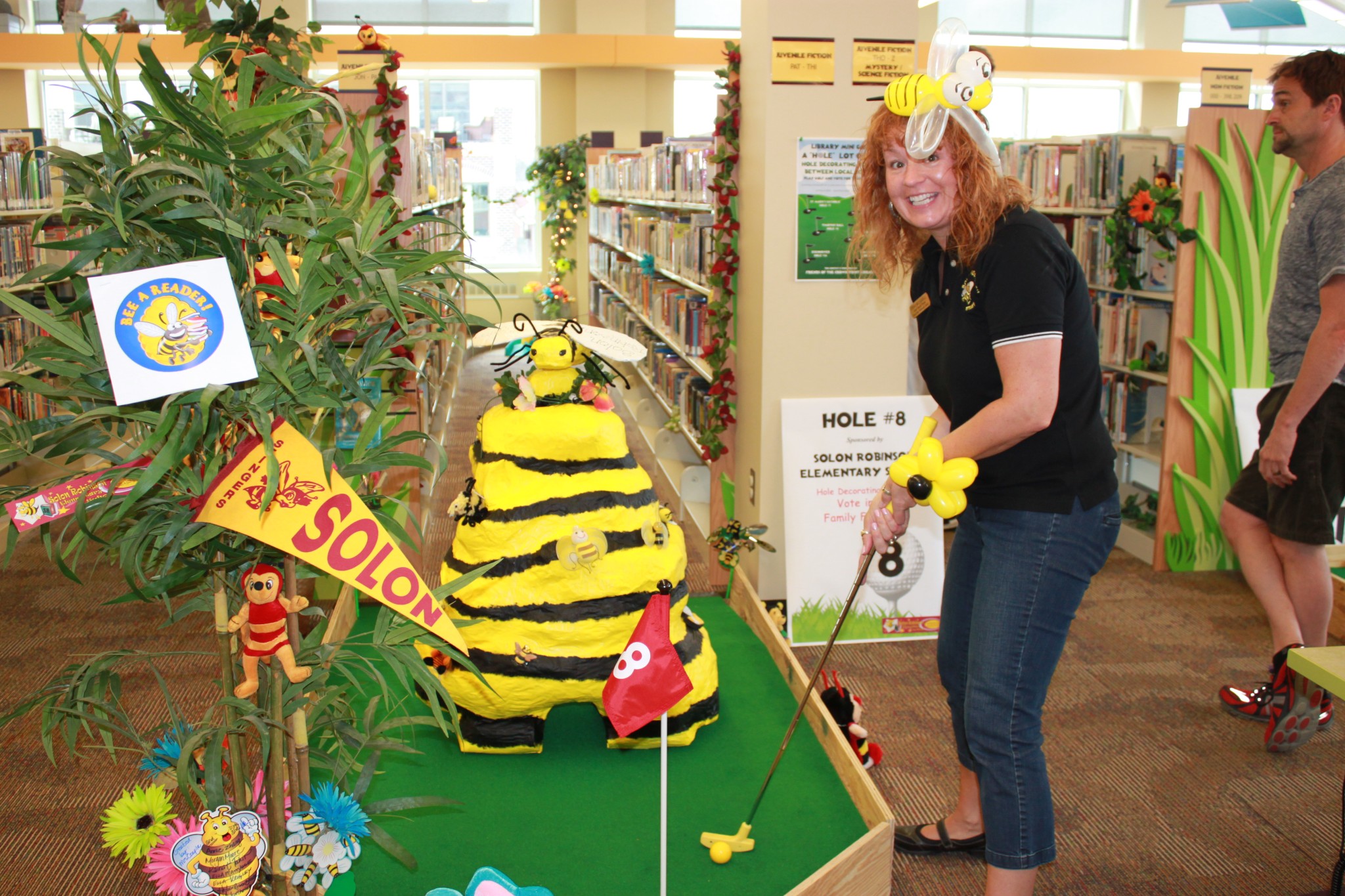 In addition, parking is available at Wheeler Middle School and Molly the Trolley will transport players to and from the event for free! Boarding happens every thirty minutes. We hope you will take advantage of this opportunity to ride around the square on your way to play mini-golf at the Library!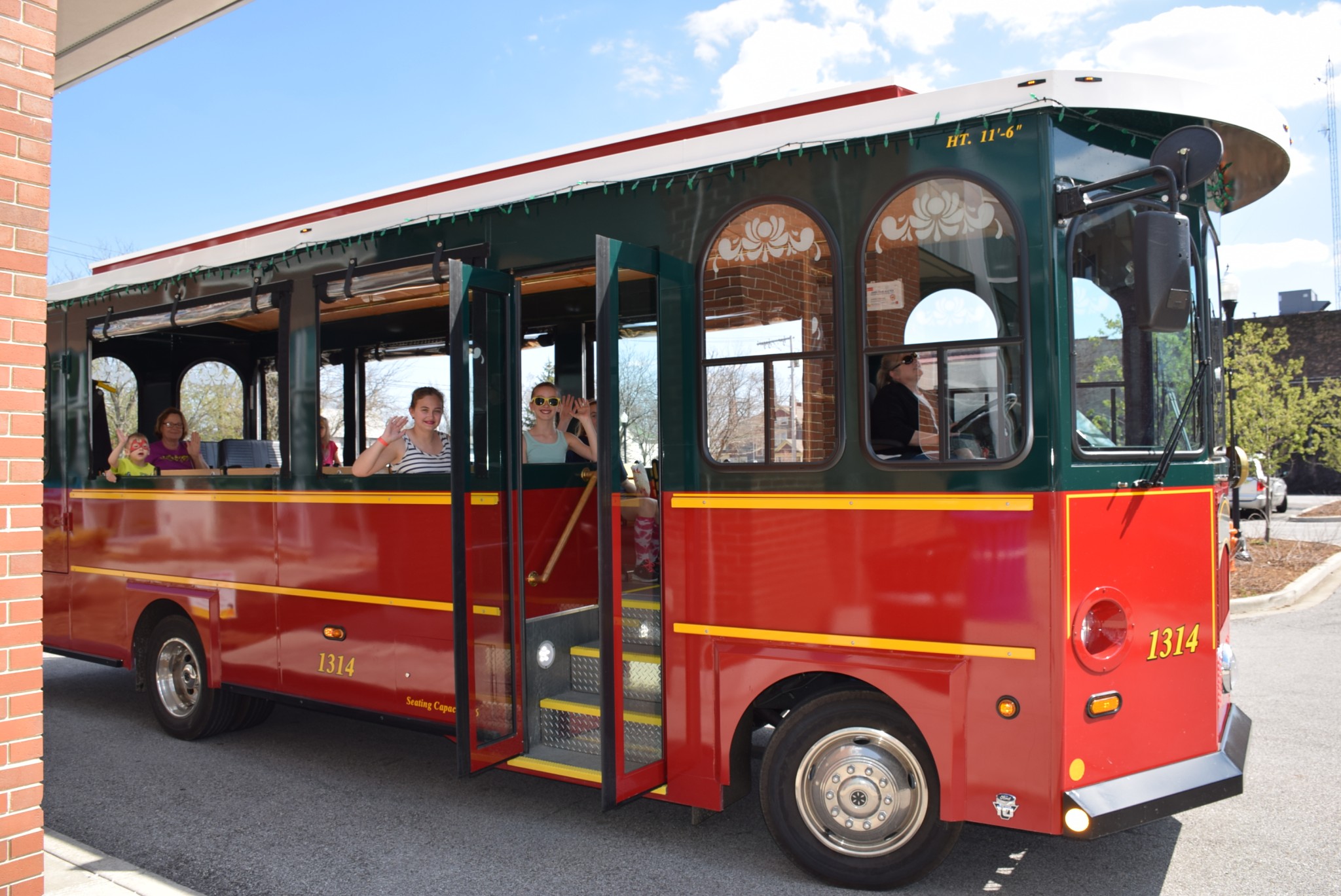 We are grateful for all of our sponsors who make Library Mini-Golf possible:
Presenting Sponsors: Professional Building Services, Tech Credit Union, Certa Pro Painters of Northwest Indiana, CROWN Engineering, Repair & Manufacturing
Hole-In-One Sponsors: City of Crown Point, Bloom Boutique Salon, Saddle & Spurs Lake County 4-H Club, Crown Point Rotary Club, Centier Bank, O'Drobinak & Nowaczyk, P.C.; Proven IT
Eagle Sponsors: Code Ninjas of Crown Point, Xoxo Invites, Lake County Historical Society, Shelter Insurance – Mike Adams, Levin Tire & Service Center, Janet Katich, Glass America, LGS Plumbing, Julie Wendorf, Green is Good by Kate, Chippopotamus Golf, Golf Now! Chicago
Family Fun Zone Sponsors: Shirer Insurance, Car Star, Geisen Funeral Home, Higgins Overhead Door
Golf Hole Decorating Contest for Local Schools: Friends of the Crown Point Library
Birdie Sponsor: Olthof Homes
---
FAQ
Where is the golf course?
The eighteen holes are set up throughout the library on the 1st and 2nd floors. Golfers will purchase their tickets, pick up their equipment in the Internet Café and then head up to the second floor to begin! The course ends in the 19th Hole "Family Fun Zone" in the library's meeting rooms, where golfers will return their equipment, vote for their favorite school-decorated hole, and enjoy free refreshments and other fun activities. This year we are excited to welcome Balloon Twister, Ian Tully, and Funtastic Photo Booth, as one of the free activities offered!
How much are the tickets? 
$5.00 per player or $20 for a group of five.
What is included in the Library Mini Golf ticket?
One round of golf (putters, balls, and scorecards will be provided to players) and admittance to the Family Fun Zone.
What forms of payment do you accept? 
Cash, check, and credit cards. Checks should be made out to the Crown Point Library.
Is any portion of the mini golf ticket tax-deductible?
No, the fee helps to cover the event's costs.
Can I buy tickets before the event on April 22?
Yes. Beat the line on the day of the event and purchase your tickets early. Tickets can be purchased at the Crown Point Library. Tickets are non-refundable.
Can I buy tickets on the day of the event?
Yes. Tickets will be sold in the Internet Café.
Will there be food or drinks available?
Light refreshments along with fun activities will be available, for free, in the Family Fun Zone.
Where do the proceeds go? 
All the proceeds go towards expanding library programming, and services, FOR ALL AGES.