MANGO is here!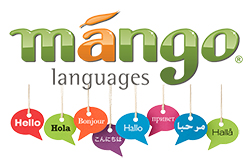 The Crown Point Library now offers the Mango Languages online language-learning system to its patrons! Mango can be accessed for free by :
going to www.crownpointlibrary.org,
clicking on the Research tab,
and then choosing Database List.

This exciting new resource is available in the library (using headphones!), and remotely, for library card holders, from home and on mobile devices. Mobile apps may be downloaded from the Google Play store for Android devices and Apple App store. Apps for Kindle and Nook are also available.

Mango offers access to 60 foreign language courses and 17 English courses taught completely in the user's native language. In addition to traditional language courses, Mango also offers the opportunity to learn through foreign film with Mango Premiere™ and access to a variety of specialty mini courses, like Pirate, Medical Spanish and romance courses.

For more information please visit the Reference Department or call (219) 306-4593.