Library Friends
The Friends of the Crown Point Library's mission is to enhance and promote the use and enjoyment of the library.
They raise funds to support library programs, services and to help fund items not generally covered in the library's regular operating budget.
Fall Book Sale
Wednesday, October 17 | 4-7 p.m. Friends Preview Sale
Thursday, October 18 | 10 – 7 p.m.
Friday, October 19 | 10 – 3 p.m. ($1 a bag sale starts at noon)
Fall into a great deal at the Friends annual fall book sale. The cost is $5.00 a bag, you can mix items that include children's and adult, fiction, non-fiction, movies, music and more! The last day of the sale is $1 a bag day. Help support the library and fulfill your "need to read" at the same time!
Friends members please present your membership card at the sale. Not a member? You can join prior to the sale at the Circulation Desk.
Volunteers are needed to help set up and work the sale. Please contact Laura at 306-4599 to sign up.
Bunco Night – Let the Good Times Roll!
Friday, November 2 | 6 – 9 p.m.
Tickets $40 per person | $35 for Friends Members
Tickets on sale September 17
Roll on down to the Library and join the Friends for some dice rollin' fun along with dinner, raffles and more! Prizes for a high/low score and most buncos! Doors open at 6 p.m., Bunco will start at 7 p.m. Tickets includes game entry, dinner, and two raffle tickets.
Bunco is an easy-to-learn game! All you need to do is roll the dice and keep score.
Bus Trip to Dickens Holiday Village-Antioch, IL
Wednesday, December 12 | 8 – 5 p.m.
Tickets $50 per person | $45 for Friends Members
Tickets on sale October 1 at Crown Point Library
Olde England comes alive in Historic Downtown Antioch, IL with lifelike figures representing scenes from the Dickens Era. Experience this Volunteer Public Art Exhibit while strolling among the delightful streets of Antioch. You'll enjoy the charm of Dickens among the many boutiques, gift shops, and eateries. All Dickens Characters are made from the ground up by volunteers.
This is a walking tour and allows sufficient time to enjoy Dickens, includes a lunch with a special presentation of "Behind the Scenes Dickens" plus time to browse Antioch's downtown boutiques and gift shops.
Please note that this is a walking tour. Your ticket includes round-trip transportation, tour guide, and lunch.
Bus trip to downtown Chicago, IL
Wednesday, December 5 | 9 – 4 p.m.
Tickets $25 per person | $20 for Friends Members
Tickets on sale October 15 at Crown Point Library
Take a chartered bus to downtown Chicago to shop and explore the city! Participants will have the option to be dropped off/picked at State Street near Macy's or the Water Tower Place on Michigan Avenue. This is not a tour and participants will be on their own throughout the day.
BUS TRIP NOTE: All participants will board the bus at the Crown Point Sportsplex. Parking is allowed in the lot east of the Parks Department Maintenance Building. Please be advised the Parks Department and the City of Crown Point are not in any way liable or responsible for damage or destruction to any of the vehicles which are parked on City property nor is the City liable for any injury incurred by any of the participants in the libraries functions while on City property.
---
Are you an online shopper?
Support the Friends this holiday shopping season! Go to smile.amazon.com and support Friends Of The Crown Point Community Library Inc.
To do this now:
Enter "smile.amazon.com" in your browser address bar
Shop & place your order
The Friends thank you for your support!
---
Meet The Friends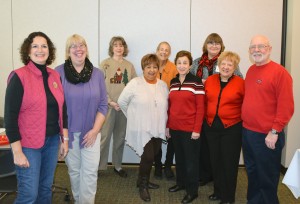 The Friends of the Crown Point Community Library have supported special programs and help to purchase items not generally covered in the library's regular operating budget. They have made it their mission to enhance and promote the use and enjoyment of the library.
When you join us, you'll:
Sponsor programs and literary initiatives for adults, children, and teens
Enable lively cultural events that attract non-traditional library users
Volunteer at Library events and book sales
Support pro-library advocacy to government officials and the general public
Many Friends volunteer by helping with the monthly and annual book sales, fundraising, and promoting the library. In addition to membership dues, money raised from the Literary Luncheon and book sales support on-going adult, children, and teen events, provide prizes for summer reading programs and help purchase equipment not covered in the general budget.
As a member of the Friends of the Crown Point Library, you'll be paid back in a thousand ways every year – with children's smiles, the sincere appreciation of the library's hardworking staff and the pure satisfaction of knowing you make a difference in your community!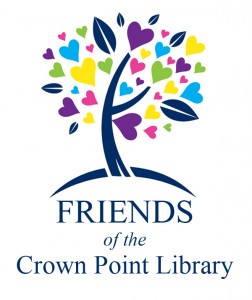 How to join:
To join the Friends of the Crown Point Library, download and fill out the membership Form and return it to:
Friends of the Crown Point Library
122 N. Main Street
Crown Point, IN 46307
The membership form is also available in the library's monthly newsletter "Check It Out" or forms are also available at the Circulation desk.
Membership is open to all individuals and families who want involvement in the library. Members are encouraged to attend monthly meetings and to actively participate in the book sales, and other events and projects. The membership year begins on January 1 and ends on December 31. All dues are paid annually.
The 2018 membership dues are as follows:
Life – $150;
Family – $15;
Individual – $10
Curious to see what the Friends are doing?
Attend a meeting! Monthly meetings are held on the second Tuesday at 10:00 am. in Meeting Room 2.
For more information on how you can get involved, contact Laura Clemons at 306-4599 or email cpclfriends@gmail.com
2018 Friends of the Library Officers:
President, Donna Hill
Vice President, Donna Selvagi
Treasurer, Cindy Beckman
Secretary, Carol Bangsburg
Program Committee:
Carol Fisher
Vicky Klein
Cindy Beckman
Donna Hill
Rose Kendall
Carol Bangsberg
Book Sale Coordinators:
Lois Lovekamp
Vicky Klein