Library Friends
Mission:
To 
enhance and promote the use and enjoyment of the library. 
To raise funds to support library programs, services and to help fund items not generally covered in the library's regular operating budget.
MARCH
Chicago Flower Show Bus Trip – Wednesday, March 20 SOLD OUT
APRIL

Bunco for Books – Friday, April 5  TICKETS ON SALE NOW!
The Friends first Bunco fundraiser was such a fun and popular event that it sparked a monthly "Bunco Club" at the Library. The overwhelming response to hold the event again prompted the Friends to host their
second Bunco For Books this spring.
They are inviting bunco players of all skill levels to come out for a night of dice rollin' fun that will help raise money for books. Proceeds from this fundraiser will be used to support the Library's literacy outreach efforts including purchasing books and supplies for Book Babies, Library book discussion groups and more. These free services, offered through the Library, are made possible by the generous funding provided by the Friends of the Library.
So call up your best friends to support literacy and let the good times roll on Friday, April 5. The event will take place in the Crown Point Library meeting rooms. Doors will open at 5:30 p.m. and Bunco will start at 7 p.m. Game instruction will also start at 6:30 p.m. for new bunco players.
Tickets are $40 per person or $35 for Friends of the Library members and include your game entry, dinner (Rosatti's Pizza) and two raffle tickets. Tickets can be purchased at the Crown Point Library.
Bunco is an easy-to-learn game! All you need to do is roll the dice and keep score.
Spring Book Sale –  April 10-12
If you have items to donate please read our guidelines on what type of materials we accept here.
MAY
Literary Luncheon – Saturday, May 18
JUNE
Travel with the Friends to the CANADIAN ROCKIES! For more information about the tour visit: https://gateway.gocollette.com/link/921424
Visit the Library Booth at the City of Crown Point Festivals.
The Friends have a mobile book sale at the Crown Point Farmers Market.
JULY
Canadian Rockies & Glacier National Park tour from July 23 – 29
OCTOBER
Membership Drive Begins – Sunday, October 20
REFLECTIONS OF ITALY ITALY  tour October 7-16, 2019.  Sign up by April 8 for a discounted price. For more information visit: https://gateway.gocollette.com/link/921444
Fall Book Sale – October 23 – 25
NOVEMBER
Bunco for Books – Friday, November 1
DECEMBER
Holiday Bus Trips – Downtown Chicago and other TBA
---
Are you an online shopper?
Support the Friends this holiday shopping season! Go to smile.amazon.com and support Friends Of The Crown Point Community Library Inc.
To do this now:
Enter "smile.amazon.com" in your browser address bar
Shop & place your order
The Friends thank you for your support!
---
Meet The Friends
The Friends of the Crown Point Community Library have supported special programs and help to purchase items not generally covered in the library's regular operating budget. They have made it their mission to enhance and promote the use and enjoyment of the library.
When you join us, you'll:
Sponsor programs and literary initiatives for adults, children, and teens
Enable lively cultural events that attract non-traditional library users
Volunteer at Library events and book sales
Support pro-library advocacy to government officials and the general public
Many Friends volunteer by helping with the monthly and annual book sales, fundraising, and promoting the library. In addition to membership dues, money raised from the Literary Luncheon and book sales support on-going adult, children, and teen events, provide prizes for summer reading programs and help purchase equipment not covered in the general budget.
As a member of the Friends of the Crown Point Library, you'll be paid back in a thousand ways every year – with children's smiles, the sincere appreciation of the library's hardworking staff and the pure satisfaction of knowing you make a difference in your community!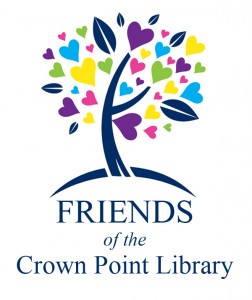 How to join:
To join the Friends of the Crown Point Library, download and fill out the membership Form and return it to:
Friends of the Crown Point Library
122 N. Main Street
Crown Point, IN 46307
The membership form is also available in the library's monthly newsletter "Check It Out" or forms are also available at the Circulation desk.
Membership is open to all individuals and families who want involvement in the library. Members are encouraged to attend monthly meetings and to actively participate in the book sales, and other events and projects. The membership year begins on January 1 and ends on December 31. All dues are paid annually.
The membership dues are as follows:
Life – $150;
Family – $15;
Individual – $10
Curious to see what the Friends are doing?
Attend a meeting! Monthly meetings are held on the second Tuesday at 10:00 am. in Meeting Room 2.
For more information on how you can get involved, contact Laura Clemons at 306-4599 or email cpclfriends@gmail.com
2019 Friends of the Library Officers:
President, Donna Hill
Vice President, Donna Selvagi
Treasurer, Cindy Beckman
Secretary, Carol Fisher
Fundraising Committee:
Carol Fisher, Vicky Klein, Cindy Beckman, Donna Hill, Rose Kendall, Carol Bangsberg
Book Sale Coordinators:
Lois Lovekamp, Vicky Klein
---