crown point summer reading teens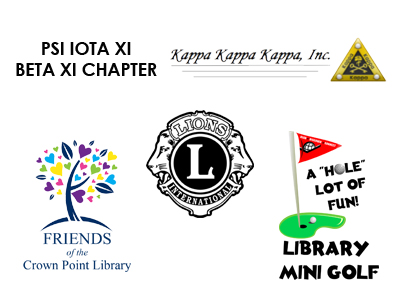 Don't forget to pick up your FREE Railcats tickets for the whole family and join us at the ballpark to celebrate your participation in Summer Reading. Ask at any library public desk.
Night at the Ballpark Railcats Games: Tuesday, July 30 OR Thursday, August 1
TEEN SUMMER READING EVENTS – CROWN POINT LOCATION:
GRADES 6-12
Art Alive
Saturdays, June 1 and 8, at 11 a.m.
Students in 1st grade and up are invited to experience art. Each week a different artist will be introduced. Learn about their lives, their art style, and works of art through literature. Create a unique masterpiece imitating the artist's style. Registration is for all 4 sessions.
Summer Reading Kick-off
Monday, June 10, 1-3 p.m.
Help us kick off Summer Reading at the library! This year's theme is Universe of Stories and we will be celebrating with some out of this world crafts and activities.
Challenger Center: Science Stations
Wednesday, June 12, 2-3 p.m.
The Challenger Center will be presenting 3 interactive science stations: Back to the Moon, Bubble-ology, Test Tube Trivia.  Registration starts June 3. All ages
Rocket Racers
Wednesdays at 4:30-6:30 p.m.
June 12, 19, and 26
July 17, 24, and 31
Students in grades 1-8 are invited to work independently to master logic and technology skills. Using independent thinking games, snap circuits, makey-makey, sphero and scratch coding, participants compete against themselves to earn rewards and recognition. Activities are STEAM based, (science, technology, engineering, art, and mathematics) and encourage creativity and build real-world skills. Drop in anytime between 4:30 and 6:30 Wednesday evenings. No registration is necessary.
Alien Invasion
Thursday, June 13, 10 a.m.
The aliens have taken over! Drop-in to the Children's Department for different alien themed crafts. All ages. No Registration. While supplies last.
Star Lord Song Challenge
Thursday, June 13 at 4 p.m.
Adolescents Assemble! Let's gather and make our "Awesome Mix" just like Star Lord in Guardians of the Galaxy. We will make our own versions of the best playlists for space exploration (and saving the galaxy) and vote on the best one! We will also have a mini dance-off with a baby Groot twist. Ages 11- 17. Registration required and opens June 3.
Sphero Space Academy
Saturdays, June 15, 22, and 29, at 2 p.m. and 3:15 p.m.
Ages 8-12
This three-session program will enable students to write basic code to transform Sphero into a space rover exploring outer space terrain. Each session builds on the skill learned the previous week. Registration is for all three sessions and opens June 3.
Family Movies and More!
Monday, June 17, at 2:30 p.m.
Enjoy Walt Disney Pictures "A Wrinkle in Time." Travel with Meg to an unknown planet to find and rescue her missing father. Enjoy popcorn and other special treats found in your movie treat bag. No registration is necessary. Goodie bags are available while supplies last.
Stories and Stars
June 18 at 8:30 p.m. at the Lake County Fairgrounds
Join us at the Lake County Fairgrounds at 8:30 p.m. to hear space-themed stories under the stars! At 9 p.m., the Calumet Astronomical Society will join us for a brief presentation about stars and planets that we can see from NWI! Registration is encouraged but not required.
DIY Moon Phases Shirt
Thursday, June 20 at 2 p.m.
Ages 5 and up
Bring your own black, prewashed shirt. We will learn about moon phases and make our own moon phase inspired t-shirt. Registration required and starts June 3.
STEM Space Challenge
Monday, June 24, July 15, and July 22 at 3 p.m.
Ages 7-12
Get ready to launch into space-themed STEM activities! Each session features a different space challenge for students to complete. Learn about aerodynamics and forces of flight while creating rockets, space landers, and rovers that survive the impact. Separate registration is required for each session.
Science Show
Thursday, June 27 at 2 p.m.
All ages
Join the Challenger Center as they present live interactive science demonstrations featuring the magic of dry ice. Registration starts June 3.
Family Forts
Friday, June 28, 4:45 p.m.
All ages
Bring your blankets and pillows and get ready to build! Families are invited to a camp "in" at the library. Build a fort, snuggle up and share a good book with your family in this after-hours program.
Registration starts June 17.
A Universe of Oreo: Taste Test Challenge
Wednesday, July 10 at 2 p.m.
Grades 6-12
Come challenge your skills at our Oreo taste test! Each participant will get several Oreo flavors to sample and guess the flavor. Whoever guesses the most flavors correctly will win a free book!
Registration Required. Opens July 1.
Constellation Station
Thursday, July 11 at 4 p.m.
Let's explore constellations as we make our own star stories using different materials and modalities. Ages 6-12.  Registration Required and opens June 17.
Teen Galaxy Painting
Thursday, July 18 at 2 p.m.
Teens ages 13-17 are invited to come and paint their rendition of the galaxy on a canvas. All materials and step-by-step directions will be provided, just bring your creativity and vision! Registration is required and will open July 1.
Galaxy Slime
Tuesday, July 23
Grades 3-5 at 3 p.m.
Grades 6-12 at 4 p.m.
Come learn how to make beautiful, colorful and glittery galaxy slime! Each participant will make their own slime to take home! Kids going into grades 3-5 will meet at 3 p.m. and kids in grades 6-12 will meet at 4 p.m. Registration required, opens July 15.  
Galaxy Tie Dye
Thursday, July 25 at 1:30 p.m.
All ages, children must be accompanied by an adult
Bring one item to dye (t-shirt, tank top, bandana, etc- no sweats please). Tie-dyeing is messy, wear your play clothes! No registration necessary, program is while supplies last.
Summer Reading Finale: Blastoff to Magic
Thursday, August 1 at 2 p.m.
Help magician Daniel Lusk build a rocketship to the moon in this exciting, interactive magic show. Registration is required and starts July 1. All ages welcome.