crown point summer reading adults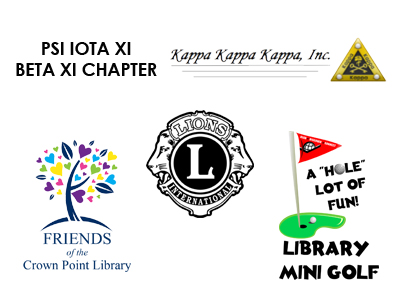 Don't forget to pick up your FREE Railcats tickets for the whole family and join us at the ballpark to celebrate your participation in Summer Reading. Ask at any library public desk.
Night at the Ballpark Railcats Games: Tuesday, July 30 OR Thursday, August 1
ADULT EVENTS – CROWN POINT LOCATION:
18+
Purdue Extension: Brain Fitness Camp Series 
Wednesday, June 5, 12, 19, 26 at 1 p.m.
The Brain Fitness Camp is simply meant to engage aging adults in fun and interactive activities that challenge thinking and help participants stay mentally active. This can contribute to maintaining and improving brain function. The goal is to educate participants on healthy brain contributors and to present cognitive or mental challenges to participants in a highly social setting. Participants will enjoy participating in four different socially interactive sessions. Each session is 1 ½- 2 hours in time. This program is free and registration is required.
 Music Recital with Susan Dembinski
Monday, June 10 at 6 p.m.
Violin and Viola teacher, Susan Dembinski, will be hosting a recital for her students here at the Crown Point Community Library. Join us for this free program and enjoy the music of her talented students. No registration is required.
Financial Literacy Series Presented by Centier
Wednesday, June 5
Tuesday, June 11
Wednesday, June 19
6 p.m.
Join us for this three-part financial literacy series presented by Centier. The first program on June 5th will cover credit. The second program on June 11th will be on budgeting and saving, concluded by homeownership on June 19th. These programs are free and registration is required.
 Book Signing with Tim Vasser
Wednesday, June 12 at 2 p.m.
Library Lobby
 Tim Vassar is a retired Crown Point school Principal and was an educator for 40 years. His book, Jeremiah Wasn't Just a Bullfrog: A Story of Passion, Pursuit, Perseverance…and Polliwags was described by a reviewer as, "The Wonder Years meets Billy Graham with a lot of inspiration among a great love story." He will be in the lobby on June 12th signing copies of his book.
NASA Solar System Ambassador
Monday, July 8 at 6 p.m.
This year marks the 50th anniversary of the Apollo 11 mission. To celebrate, the Crown Point Community Library is hosting NASA Solar System Ambassador, B.J. Austin, to talk about NASA's Apollo mission. Join us for this wonderful program that celebrates space exploration and humanities curiosity of the cosmos. This program is free and no registration is required.
History of Jazz presented by Indiana University's Senior University
Thursday, July 25  at  5:30 p.m.
Wednesday, July 31 at 5:30 p.m. 
In this two-part series, professional pianist, educator, and producer, Billy Foster, will be presenting a two part series on the history of Jazz. This program is restricted to those who are 55 and better as IU Northwest's Center for Urban and Regional Excellence through their Senior University continues to provide wonderful free programming to residents of the region. This program is free and registration is encouraged.
Free Community Movies
Monday Matinee
 June 10 1:30 p.m.
The Upside: A recently paroled ex-convict, Dell, strikes up an unusual and unlikely friendship with a quadriplegic billionaire, Philip Lacasse, in this 'funny and warm-hearted buddy comedy.' From worlds apart, Dell and Philip form an unlikely bond, bridging their differences and gaining invaluable wisdom in the process, giving each man a renewed sense of passion for all of life's possibilities.
July 8 1:30 p.m.
Five Feet Apart: Stella is a vibrant, fun-loving seventeen-year-old. Unlike most teenagers, Stella has to spend much of her time living at a hospital as a cystic fibrosis patient. When Stella meets Will, a charming and rebellious fellow patient, she feels a powerful connection, but restrictions dictate that she and Will maintain a safe distance between them. As their feelings grow, Stella and Will face a life-changing question: How does love feel when even a single touch is off-limits?
Film Movement
Wednesday, June 19 at 6 p.m.
Nina – Polish and French with English subtitles: Nina and Wotjek are a married (but mismatched) couple; They're eager to have a child, but Nina can't conceive. When a chance encounter introduces them to Magda, Wotjek believes they may have found a suitable surrogate. But meeting the fiercely independent, single-minded Magda awakens a repressed desire in Nina, causing events to spiral out of everyone's control.
Wednesday, July 17 at 6 p.m.
 The Sower – French with English Subtitles: Winner of the prestigious New Director competition at the San Sebastian Film Festival, Marine Francen's debut is a sensual, visually stunning historical romance. In 1851, France's autocratic President Louis-Napoléon Bonaparte has ordered the arrest of all the men of a remote mountain farming village following a Republican uprising. The women spend years in total isolation, forced to tend the crops themselves. Some women have lost their husbands; others, like the shy but inwardly strong Violette, suddenly have no chance of experiencing physical love or motherhood. The women take an oath: if a man comes, they will share him as a lover. When a mysterious and handsome stranger arrives, he ignites passions and jealousies that threaten to destroy the tight-knit community. In the vein of THE BEGUILED and THE GUARDIANS, Marine Francen strikingly beautiful first feature is a part of a new wave of female-focused historical drama.
Historical Homes of Crown Point Tour with Molly the Trolley
Explore historic Crown Point homes while riding Molly the Trolley. The tour, presented by Jeanene Letcher, CPCL's Reference Department and Indiana Room Specialist, is designed for adults. Maps for a self-guided tour will be available in the 1st-floor lobby. Registration is required due to limited seating on Molly the Trolley.  Register online or call 306-4593. These tours are made possible by a grant received from the Women's Giving Circle through the Crown Point Community Foundation. Choose one of the following times:
May 22 – 6  – 8 p.m.
May 31 – 10 a.m. – 12 p.m.
June 12 – 10 a.m. – 12 p.m. (FULL)
June 18 – 2 – 4 p.m.
June 26 – 6 – 8 p.m.
July 10 – 10 a.m. – 12 p.m.
July 19 – 10 a.m. – 12 p.m.
July 24 – 6 – 8 p.m.
September 6 – 10 a.m. – 12 p.m.
September 11 – 6 – 8 p.m.
If there is inclement weather during the time of the trolley tours, a presentation will be held at the Library that covers the homes that are being talked about on the tour.
Book Discussions
"3rd Monday at 1"- Crown Point Library from 1 – 2:30 p.m.
Monday, June 17: Beartown, Fredrik Backman
Monday, July 15: No Assigned Book – the group will have a book share and bookmark craft
August: No Book Club Meeting
Evening Book Group- Crown Point Library from 6 – 7:30 p.m.
Thursday, June 13: Inheriting Edith, Zoe Fishman
Thursday, July 11: No Assigned Book – the group will have a book share and bookmark craft
August: No Book Club Meeting
On-Going Creativity Classes
Mahjong:
Every Thursday | 1 – 3 p.m.
Mahjong Instruction:
First Monday of the month  |  1 – 3 p.m.
Bunco Club:
First Monday of the month  |  12 – 3 p.m.
Sticks & Strings Knitting Club
Mondays  |  9:30 a.m. – 12:30 p.m.
Crochet Group
Mondays  |  9 – 11 a.m.
Under Cover Quilters
June 4 & 18 | 10 – 3 p.m.
July 2, 16, 30 | 10 – 3 p.m.
Wednesday Afternoon Knitters
Wednesdays  | 12:30 – 2:30 p.m.
Color Your Stress Away
Monday, June 24 | 1 p.m.
Monday, July 22 | 1 p.m.
Paper Crafting *
Tuesday, June 18 |10 a.m. or 1 p.m.
Thursday, June 20| 5:45 p.m.
Tuesday, July 16 | 10 a.m. or 1 p.m.
Thursday, July 18 | 5:45 p.m.
*Requires a $6 materials fee.
Playing with Paper:
Monday, June 10 | 10 a.m. – 12 p.m.
Monday, July 8 | 10 a.m. – 12 p.m.