Show Your Card And Save
The Crown Point Community Library invites local businesses to participate in the celebration of National Library Card Sign Up Month by offering an exclusive discount or special deal to shoppers that show you their Crown Point Community Library card during the month of September.
Receive free promotional marketing to thousands of library cardholders.
Be featured on the Library's website, social media, and other digital and print promotional mediums.
Be provided with materials to promote your partnership with the Library and support for shopping local.
Interested in participating? Contact Laura Clemons at (219) 306-4599 or lclemons@crownpointlibrary.org, or fill out this form and return it by September 1st.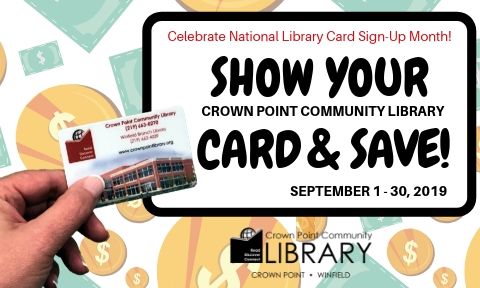 Support the local businesses
that support your local library!
Since 1987, Library Card Sign-up Month has been held each September to mark the beginning of the school year. It is a time when the American Library Association and libraries nationwide join together to remind parents, caregivers, and students that signing up for a library card is an important step towards academic success and lifelong learning.
Libraries offer free and fun educational resources and activities that bring families and communities together.
A library card opens a world of infinite possibilities through resources and services that give students the tools to succeed in school and beyond. For adults, not only can it be used to access free entertainment options, it is also a key to unlock training resources to get a better job, acquire fun new skills, or learn a new language.