Library Mini Golf
2018 Library Mini Golf Event Breaks Past Event Record
The Crown Point Community Library would like to thank area businesses and the community who supported the 2018 "A Hole Lot of Fun" Library Mini Golf Event on April 14, 2018. Participants explored the library in a fun and unique way. Decorated holes with obstacles and a handmade gutter system for the hole that ran down our main staircase created a challenge and a lot of enthusiasm for all the golfers! The course ended in the "family fun zone" (the library meeting rooms) which included games, a balloonist, tattoo station and refreshments free to the golfers.
Additional parking was made available at the Wheeler Middle School parking lot, and Molly the Trolley provided free transportation to and from the library throughout the event.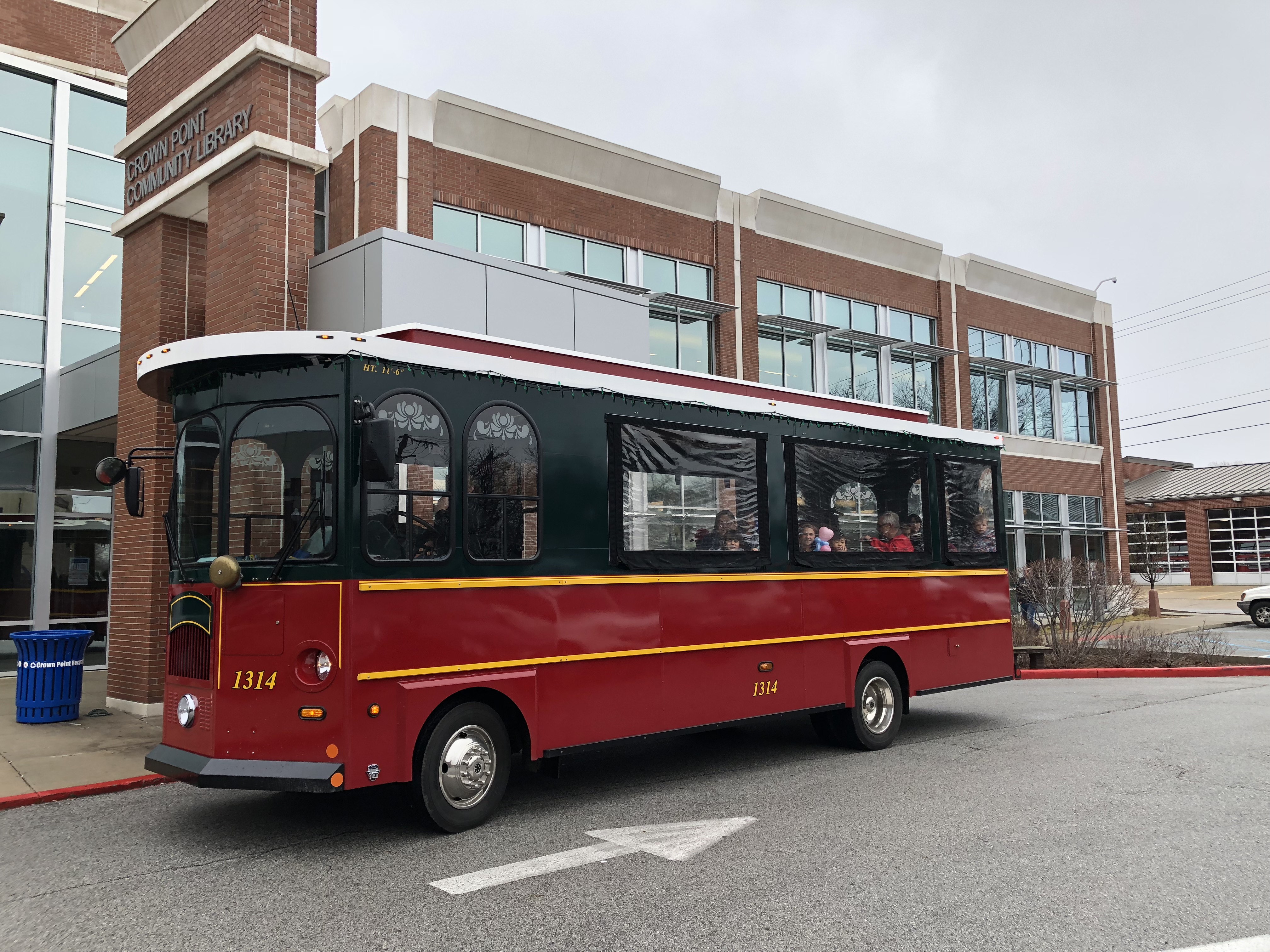 This year's event was a record breaker, with over 566 golfers of all ages playing 18 holes. We surpassed our number of golfers (450) from the 2016 year's event and 1,794 people visited the library throughout the day.
We plan this event in April to celebrate National Library Week (April 8-14), the Friends group also incorporated the celebration of "School Library Month" with a hole decorating contest open to Crown Point schools. Golfers voted for their favorite hole the day of the event, and three winning schools received a cash prize to purchase books for their school library. Five schools participated: Solon Robinson, Lake Street, Timothy Ball, Trinity Lutheran and Winfield Elementary. The winning schools were 1st place, Lake Street; 2nd Place, Solon Robinson; and 3rd place, Winfield Elementary. The hole decorating contest was so much fun and the ideas the schools came up with were great! Their decorated holes really made the golf course more interesting and fun.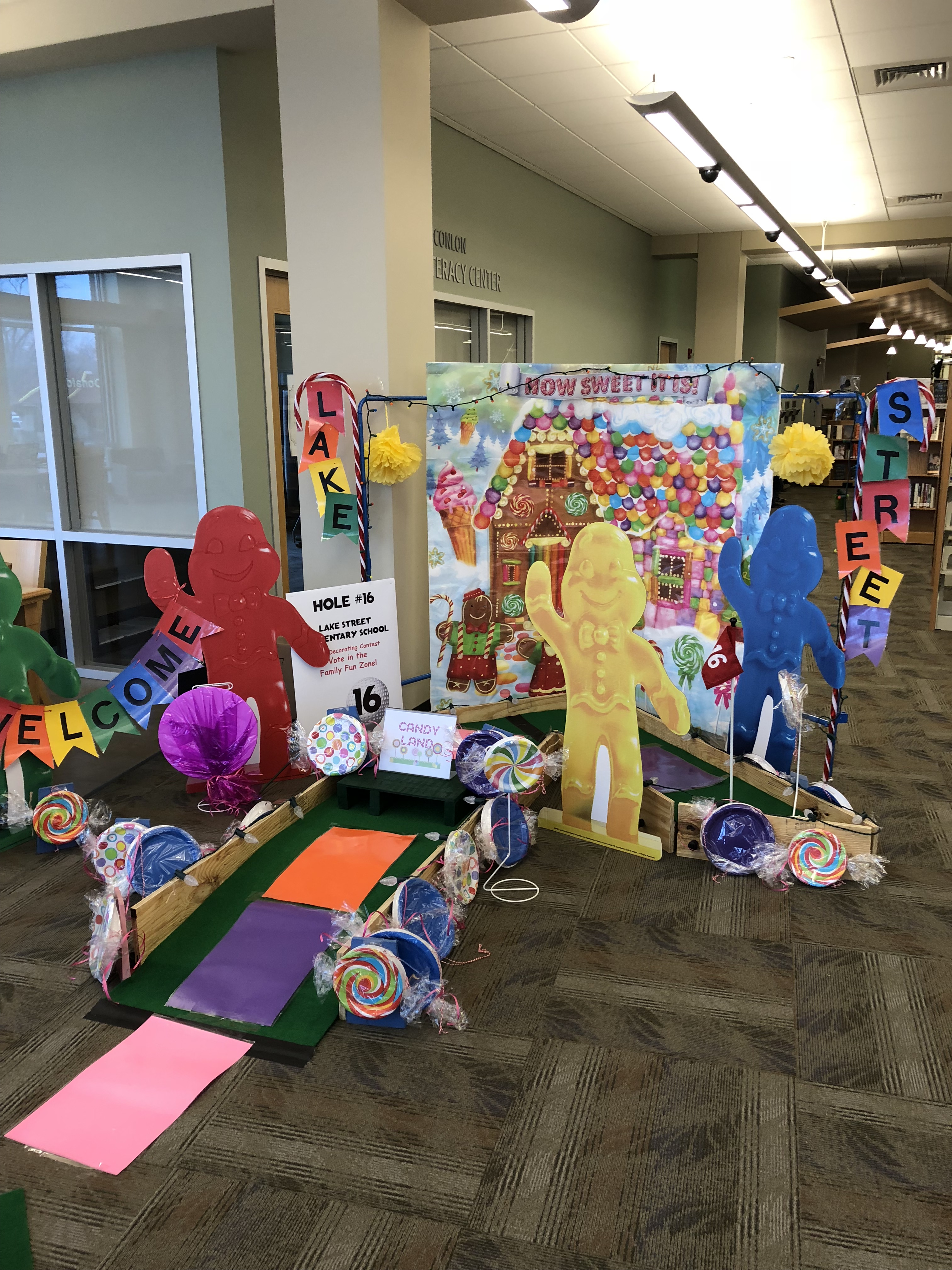 This unique fundraiser raises money to support library programming and stimulate the community's interest in all the library has to offer. As our community grows, so do our needs for programming for all ages. Our librarians have many great ideas, and dollars for programming are not included in our general budget. All the proceeds from this event will allow us to offer unique many types of programs to expand the traditional boundaries of library programming.
We would also like to express our thanks and gratitude for supporting this exciting fundraiser:
The 2013 Crown Point High School Industrial Technology Department for constructing the 18-hole indoor mini golf course for us. You read correctly…students built our course!
The 2017-18 Crown Point High School football members for setting up the course: Trevor Bieszczat, Ethan Potosky, Griffin Atherton, Adam Hilliard, Scott Mills, Sam Koutz, Cole Staley, Alex Tran.
Event sponsors: Presenting Sponsor, McCarroll Dental; Hole In One Sponsor, Prime Real Estate; Family Fun Zone Sponsors, Friends of the Crown Point Library, Hubinger Landscaping, Carstar, Puntillo & Crane Orthodontics, Higgins Overhead Door and Adam Decker, Attorney; Hole sponsors, Centier Bank, Janet Katich, Saddle & Spurs 4-H Club, Olthoff Homes, Tech Credit Union, Geisen Funeral Homes, Chris Mallers, Commercial Sweeping Corp. and a special thanks to Crown Point Parks & Recreation for the use of Molly the Trolley.
Raffle donations: Bennett-Curtis House, Crown Town Grill, Friends of the Crown Point Library, Library Quilters, Library Crochet Group, Julie Wendorf, Jaks Warehouse, Carol Bangsberg, Louann Horvath, Yoga Room, Levin Tire, Antique Vault Records, YMCA, Gill Knip, Connect Church, Judy Samter, and Belinda Bosch.
Thank you to all the staff, Friends of the Library and teen volunteers who helped set up and work at the event.
2018 A Hole Lot of Fun Event Pictures