Evening of Magic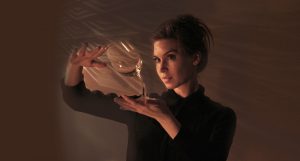 Hometown Happenings presents an Evening of Magic by illusionist Jeanette Andrews at the Crown Point Library on Friday, October 12, at 6 p.m.
Hailed as one of the most innovative illusionists today, Jeanette has performed at hundreds of museums, theaters, and universities across the United States, including sold-out and standing-room-only crowds at Chicago's Museum of Contemporary Art. She has been featured on WGN TV and her performances have been praised by PBS, The Daily Mail & The Chicago Tribune.
Join us for an evening of magic and illusions for all ages and "Discover the Magic in You!"
The evening consists of:
20-30 minutes of magic & illusion
20 – 30 minutes "School for Witches & Wizards" where Jeanette will teach kids a trick they can take home with them
20-30 minutes of Q&A, taking photos & signing autographs
Upon "graduating" from the Hometown Happenings School for Wizards & Witches, each child participant will be given a diploma.
Advance tickets: $5 all ages. $10 at the door. Must have at least 1 adult per every 2 kids in attendance.
Purchase tickets at https://www.signmeup.com/site/online-event-registration/127674